The New Generation Pedicure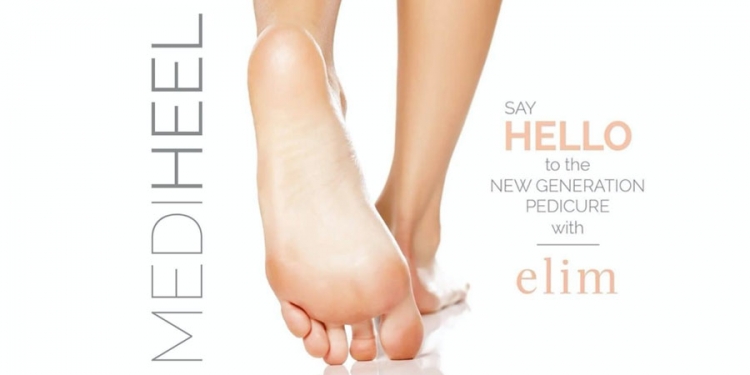 Welcome to a brand new way of doing pedicure treatments.
Elim is a medical grade pedicure treatment which uses state-of-the-art ingredients to remove hard skin and calluses from the feet.
The Elim MediHeel Pedicure was designed and formulated to offer clients a superior system focussing on a restorative pedicure. The system has nine essential steps and guarantees a longer lasting result.
At Elim we realized that not all clients have identical pedicure needs. We designed a system that focuses on compromised areas but not leaving the relaxing experience behind.
The system was designed to give you a long-lasting result on the feet, focussing on the dry area around the heel, hydrating nails and nourishing cuticles. There are also alternatives for bacterial infections, fungal infections on the nail and yellowing nails.
Overall a superior approach to pedicures with products containing medical grade ingredients.
The nine steps are:
Callus Tonic - Replaces the blade and file, removes dead skin cells
Neutralizer - Re-establishes the skins pH, to maintain soft supple heel post treatment
Exfoliant - Exfoliates and hydrates leaving the feet feeling soft and smooth
UltraMud - Deep cleansing, rich clay mask is designed to detoxify, purify, protect, cleanse and hydrate skin
Additive - A natural antiseptic foot soak, neutralise´s odour & skin irritations, increases circulation and more..
Foot Perfector - A foot balm, maintains hydration, treats dry cracked feet, plumps & improves skin appearance
Fungal Force - A powerful nail serum that treats fungal infection (Only if required)
Cuticle MD - Is an antibacterial cuticle rescue to keep the cuticles in peek condition
Gold Spritz - The perfect shimmered finish to your treatment..